How Peter Obi causes Jonathan, Atiku's defeats in 2015/2019 Presidency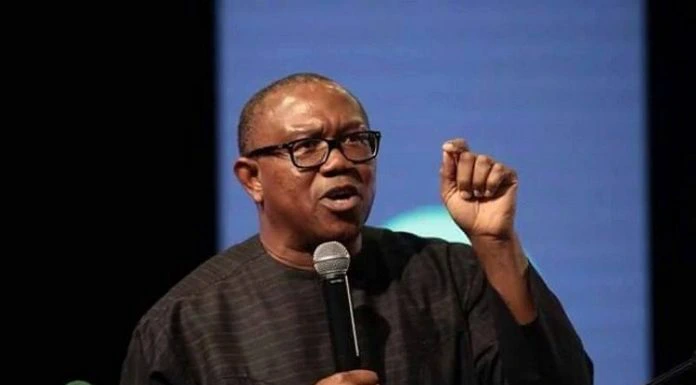 pro-Peter Obi group Demands Immediate Sack Of INEC Boss, holds Buhari responsible
World Igbo Youth Congress, WIYC, has alleged that former Anambra State governor and 2019 Peoples Democratic Party, PDP, Vice Presidential candidate, Peter Gregory Obi was responsible for the defeat of Goodluck Jonathan and Alhaji Atiku Abubakar in 2015 and 2019 elections.
The group in a statement obtained by ABACITYBLOG said it have examined the stock of Igbos misfortunes in 2015 and 2019 general elections, and observed that Igbos had better options not be in this present situation of political wilderness but instead opted for popular choices which wasn't managed properly by Jonathan's 2015 Campaign Manager Southern Nigeria and Atiku Running mate in 2019, we observed that such actions should never happen again in the future regards to 2023 Presidential election.
It should be recalled that the people of South-East voted massively for former President Goodluck Jonathan in 2015 and Atiku Abubakar in 2019 which the duo defeated by the President Muhammadu Buhari.
In the statement signed by Mazi Alex Okemiri President General World Igbo Youth congress, the group also blamed Ohanaeze Ndigbo General for their decision which allegedly caused the marginalisation Igbos are facing today.
"We know those who were behind the hasty decision of Ohanaeze Ndigbo in 2015, when the then General Muhammadu Buhari wrote to have audience with ohanaeze Ndigbo regards 2015 presidential election, which was unsuccessful Based on the efforts of Former President Jonathan Campaign Manager for the Southern Nigeria, and which also repeated again in 2019, when Ohanaeze Ndigbo hurriedly miscalculated without due process of IME obi to endorsed Atiku ahead of President Muhammadu Buhari,was also piloted by the same man who made Igbos to lose in 2019.
"WIYC appeal to Ndigbo to forgive Peter Obi, who's linked indirectly to the electoral losses of PDP in 2015 and 2019, when he singlehandedly couldn't galvanised Igbo support for Jonathan and Atiku on a clearly seen victory which Igbos was out to give to both candidates,in 2015 but lack of co ordination led to Igbo voters apathy across the South East for Jonathan, because Jonathan couldn't muster up those Igbo votes he got overwhelmingly in 2011 across the South East states,
Based on Obi's style of politicking which is strange to Igbos, repeatedly his candidature as Vice Presidential Candidate of PDP and running mate to Atiku 2019 led to controversies, which was unacceptable to PDP South East Governors and leaders, which made President Muhammadu Buhari got more than 25% votes in Ebonyi, Abia and Imo States,
So WIYC advice PDP to do away with Peter Obi in the future elections as his entrance in PDP collapsed Igbo support for the party, so we advise PDP to resist any attempt for Peter Obi to hijack the the PDP Guber ticket on 2021 for his stooge from Anambra North, it's the turn of Anambra South.
"Lastly, Igbos had learnt their bitter lessons from the situation we found ourselves politically, and there's attempt to rewrite history by doing away those people and politicans who jeopardise the electoral fortunes of Ndigbo and put us into Political limbo in Nigeria, Igbo youths will never have the likes of those who had brought political pains and put igbos as minority-major tribe in Nigeria and fourth class citizens,2023 is not such persons, surely they Igbo youths are out to retire politically the likes of Peter Obi.
How Peter Obi causes Jonathan, Atiku's defeats in 2015/2019 Presidency
Reviewed by
JNJ GLOBAL GIST
on
October 06, 2019
Rating: