Kogi West: APC offered bribe, begged INEC not to hold re-run November 16, Melaye alleges
• Bello is not a sectional or senatorial governor― govt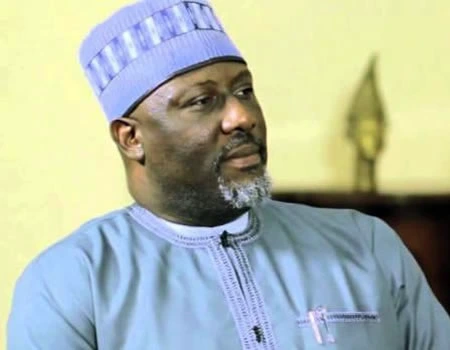 Kogi-west senatorial district, Senator Dino Melaye
Senator Dino Melaye has alleged that the Kogi State governor, Alhaji Yahaya Bello has bribed the Independent National Electoral Commission (INEC) not to hold Kogi West senatorial election on November 16.
In a swift reaction, the Director-General Media and Publicity to the governor, Mr Kingsly Fanwo said Governor Yahaya Bello is the Executive Governor of Kogi State and not a sectional or senatorial governor.
"He can therefore not be discussing the conduct of a Senatorial election."
Melaye in a statement issued in which was made available to news men in Lokoja, on Tuesday, stated that apparently threatened by the widespread popularity and rising acceptance of Senator Dino Melaye and People's Democratic Party(PDP), by majority of the good people of Kogi West Senatorial district, Governor Yahaya Bello has launched serious lobby, bribe as a strategy to compel Independent Nataional Electoral Commission, (INEC ) to either rescind or dismiss its considerations on the possibility of conduct fresh Kogi West Senatorial election alongside the upcoming governorship election slated for November 16, 2019.
The statement read thus, "The back ploy desperation to bribe, lobby, pressure and compel INEC came after the INEC National Commissioner in charge of Kogi, Nassarawa and Kwara Alhaji Muhammed Haruna, dropped the hint in Lokoja on Friday while fielding questions from newsmen on the Court of Appeal judgement nullifying the election of Kogi West Senator, Dino Melaye.
"Haruna said that since the governorship election is still 34 days away, there was possibility for Senate election to hold same day.
Since this declaration by INEC, governor Yahaya Bello who is hellbent on foisting his candidate, Smart Adeyemi on the good people of Kogi West has since perfected plans to bribe, pressure and compel INEC not to hold the election on November 16, 2019 due to the fact that it won't allow APC and the governor to unleash violence on the opposition, intimidation of voters, cart away ballot boxes and manipulate the entire process to forcefully install Smart Adeyemi who was roundly defeated twice by distinguished Sen Dino Melaye.
"Its instructive to note that a party like APC and its serially defeated candidate who claimed to be so popular among the people could descend so low and results into lobby and bribery of INEC not to merge Kogi West Senate election rerun with the governorship election.
"What are the fears and vested interest of Gov Yahaya Bello in an election that will be solely and strictly decided by the people of Kogi West? Why is a self acclaimed popular party, Apc begin to run for election to the extent of lobbying a later date? What are the interior motives behind the lobby and bribe having previously boasted that they can win any transparent election any time?
"For avoidance of doubt, INEC top echelons observed that holding the Senate election same time will definitely reduce its cost, time and hurdles because the same personnel, security agencies, election monitoring groups, civil societies, logistics and ad-hoc staffs will be used for the twin election. All they needed was just to provide ballot papers, results sheets, Senate ballot boxes for all the units in the 85 wards of Kogi West.
"More importantly, they are aware that since the nullification, Kogi West and no longer have a representative at the Senate chamber. As we speak, other political parties are willing to go by the likely November 16 date and have resolved to ensure INEC conduct a hitch free poll.
"In the light of the above, desperation and attempt by Kogi Apc to manipulate INEC using different contact to pressure and compel its National Chairman shows how unpopular, shaky, cracked and rejected Apc and its candidate are. We want to reiterate our stands clearly that, Kogi West election rerun will be decided by the people through popular, free, credible and fair election process, the desperation by Apc and its candidate looking for a special rigging date that will be donated is a waste of time, unseriousness and mockery of democracy.
"PDP and its candidate are ready to go into the rerun devoid of manipulation, violence, rigging, electoral hijacking and banditry. We are confident of victory once again."
However, the Director General Media and Publicity to Governor Yahaya Bello, Mr Kingsly Fanwo said Governor Yahaya Bello is the Executive Governor of Kogi State and not a sectional or senatorial governor. He can, therefore, not be discussing the conduct of a Senatorial election.
Reacting to the allegation through a statement made available to Tribune Online, he noted that at the moment, the governor is busy with the guber election and most importantly, state matters at this point. He has little or no time to dabble into such issues.
His words: "This is nothing but the usual foul cry by the most recently sacked election rigger senator who is always afraid of standing for once as a 'leader' and face his destiny without whipping up rumors and sentiments to hoodwink the unsuspecting public. The people are tired of his childish sympathy hunt and stunts.
"Governors don't print electoral materials for INEC. Losing election cases must have affected the former senator badly. Kogi State Governor is a law-abiding governor who has never been in the habit of bribing anyone or any organization.
"The body charged with the responsibility of conducting elections in the country will fix the date of the rerun election in line with their constitutional and internal regulations."
Kogi West: APC offered bribe, begged INEC not to hold re-run November 16, Melaye alleges
Reviewed by
JNJ GLOBAL GIST
on
October 15, 2019
Rating: