Presidency backs off as governors join plot to remove Oshiomhole as APC national chairman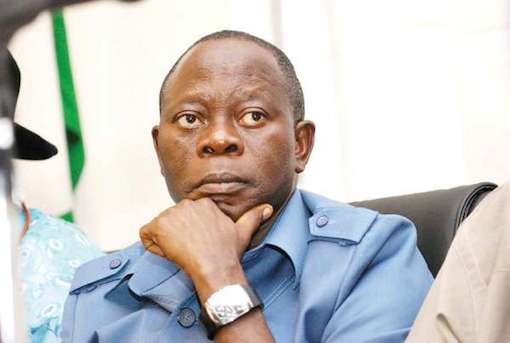 A report by Daily Sun indicates that the days of Comrade Adams Oshiomhole as the chairman of the ruling All Progressives Congress (APC) are numbered.
A high party official quoted in the report stated that a fresh plot against Oshiomhole, might see him lose his job as early as January 2020.
"The presidency had intervened, pleading with every aggrieved person against Oshiomhole to temporarily pipe low and sheathe their swords until after the presidential election appeal tribunal rules on the outcome of the 2019 presidential election," the source said.
He continued: "The presidency had said that it will not be good for the party to be divided ahead of the ruling because it will not only certainly send a negative signal but also portray the party in a light capable of affecting the outcome of the judgement."
He noted that now that the tribunal has ruled, the plot to remove Oshiomhol has recommenced.
"There is overwhelming evidence to nail and remove him, and I can confirm to you that Oshiomhole cannot last as the national chairman of APC beyond January next year, that is if he survives the plot by December this year.
"We have had enough and he must leave before he kills the party. If he fails to take the diplomatic option of resigning honourably, be sure he will be booted out on or before the deadline I gave you," the source said.
Responding to the report, Simon Ebegbulem, spokesman to Oshiomhole, dismissed it as fake, saying that nothing of such would happen.
"I don't understand why people are always interested in fake stories about plots against the national chairman.
"It is not today the speculation started and the rumour that intervention by the presidency saved him before the presidential election appeal tribunal ruling was part of wrong information they are feeding the media," he stated.
Meanwhile, seven months after suspending some of its prominent chieftains for alleged anti-party activities,
the APC has kept mum over the fate of the affected party stalwarts
.
Immediate past governors of Ogun and Imo states, Ibikunle Amosun and Owelle
Rochas Okorocha
and the director-general of the Voice of Nigeria, Osita Okechukwu were suspended days after the party won the 2019 presidential polls.
The immediate past Niger Delta Minister, Usani Usani was also affected by the decision of the APC's National Working Committee.
Presidency backs off as governors join plot to remove Oshiomhole as APC national chairman
Reviewed by
JNJ GLOBAL GIST
on
October 14, 2019
Rating: