#SexForGrades: University drop-out journalist plans to go back to school if…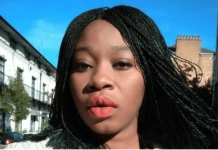 "Nope I never did. I'm a University drop-out. I hope to go back to school though because I genuinely enjoy learning. I just hope to do it in a saner, safer environment. #SexForGrades", tweets Kiki Mordi
Kiki Mordi, the lady who exposed lecturers in the University of Ghana and in the University of Lagos, who demand sex in exchange for grades, has revealed she never graduated from school.
Kiki is the brain behind the BBC documentary which exposed lecturers who demand sex from their students.
Kiki Mordi in the documentary posed as a 17-year old female student then went on to approach a UNILAG lecturer, Dr. Boniface Igbeneghu, who in turn made sexual gestures at her.
Not long after the documentary went viral, Kiki took to social media to reveal that she herself is a dropout but hopes to return to school someday.
Here are 5 things you need to know about Kiki Mordi:
1. Works for BBC African Eye She is a presenter with BBC Africa radio and also works with Women Radio fm 91.7.
2. An all-round creative Kiki is not only a filmmaker; she is a story teller and writer.
3. She dropped out of school due to sexual advances from her lecturers The undercover journalist said she dropped out of school because of the sexual abuse she faced as an undergraduate.
4. Kiki's creative brilliance was awarded It should be noted also that Kiki clinched the Nigerian Broadcasters Merit Award for Outstanding Presenting Programme, South-South.
5. She was nominated for another award She once got nominated for Nigerian Broadcasters Merit Award for most promising young presenter for both the TV and radio category.
And here is an open letter from our reporter, Ediale Kingsley, to her:
Dear Kiki,
Well done. Good job.
This was a bold project.
I hear the threats are coming in.
But thank God, as you have noted
BBC cares enough about the employees.
That's good for you.
And great for journalism.
For those who wonder why local media don't do this kind of job.
Well, this is the answer for you.
99% of the local media owners do not care about their employees.
Those who manage to pay salaries as at when due do not offer any extensive welfare package.
But that is another story for another day.
You have done a good job. Let's give you accolades. And be thankful for your safety. You executed the #SexForGrades undercover investigation well. And Unilag has done the needful.
You said you were inspired by your personal experience which saw you become a University drop-out. And it's not even funny. Thousands of destinies have been negatively affected by wicked and perverted lecturers.
You said, "the biggest goal of this work was to be louder than the aggressor because sexual harassment is very loud. I wanted it to be silenced. I am happy that a lot is changing already since the documentary was released and I can confirm to you that one of the lecturers at the University of Lagos caught sexually harassing a prospective student has been dismissed by the institution. I believe it doesn't stop there until there is a conviction. We have to break that culture of impunity."
I agree with you. But there are a lot of persons now challenging the project. Some feel it is entrapment. In Ghana when Anas became a wildfire with his back to back undercover journalism. Many started challenging the reports. They said it was unfair to tempt and entrap individuals all in the name of journalism.
The 'victims' of this kind of journalism usually feel they lost to entrapment. In adjusting to the consequences, they are quick to hide under so many sentiments.
But is it really entrapment? The argument is this if the police go undercover to nab a drug gang, for instance, and get evidence to nail the gang. Would that be entrapment?
No.
Like BBC said, it is only entrapment if they persuade or force someone to do something illegal that they wouldn't otherwise have done, then it would count as entrapment.
Victims of Dr. Boniface #SexForGrades also made confessions. So clearly, it was not your undercover pose that persuaded or forced him to do what he did. It was obviously the culture.
Many have argued that recording people without their consent was illegal. That the press can't just target someone and secretly record them getting up to no good.
But BBC has explained that their's a hefty get-out clause to that. It's generally allowed if it's "in the public interest".
It is for the good of the general public that these documentaries are exposing crime, corruption and injustice. And media law experts have justified these actions.
Your Accolades spotter,
Ediale
#ForTheCulture
PS: Be safe, be good, and God bless you
.
#SexForGrades: University drop-out journalist plans to go back to school if…
Reviewed by
JNJ GLOBAL GIST
on
October 09, 2019
Rating: