Shock Poll: Former First Lady Michelle Obama Leads All Democrats in New Hampshire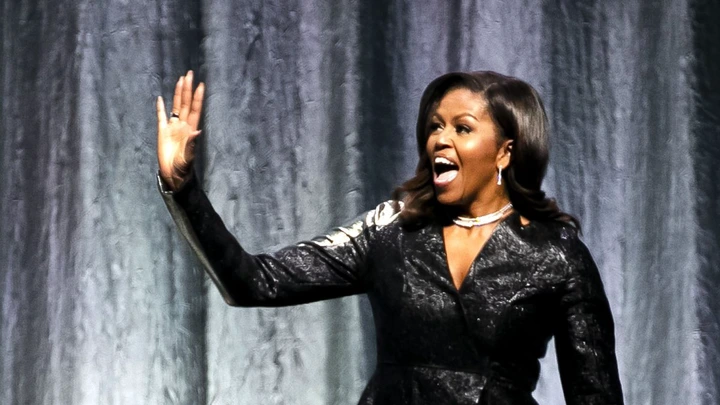 REMKO DE WAAL/AFP/Getty Images
Former First Lady Michelle Obama is the current first choice for Democratic voters in the first-in-the-nation primary state of New Hampshire, according to a new poll.
A Franklin Pierce University-Boston Herald
poll
published this week shows Massachusetts Senator Elizabeth Warren with a slim lead over former Vice President Joe Biden and Independent Vermont Senator Bernie Sanders. Warren tops the poll at 25 percent, followed by Biden at 24 and Sanders at 22, all within the margin of error of each other.
But when Michelle Obama — who is not running for president so far — is added to the mix, things change dramatically, Not so much when they polled Disney's Bob Iger, for some reason.
From the Herald:
The poll included questions speculating what would happen if other Democrats were to enter the race, including Former First Lady, Michelle Obama and Disney CEO, Bob Iger. Iger remains largely unknown among Democratic voters and only 4 percent indicated that they would vote for him if he were to enter the race. But if Michelle Obama were to enter the race, it would change things dramatically. Twenty-six percent of Democrats would vote for her, making her the new front-runner. Under this scenario, Obama (26%) would lead Warren (20%), Biden (20%)and Sanders (15%). She would take away 4-points from Warren, 4-points from Biden and 7-points from Sanders.
Currently, Warren
leads
New Hampshire in the RealClearPolitics average of the state's polls, about three points ahead of Biden and more than ten points ahead of Sanders.
That same FPU/Herald poll also found that President Donald Trump has lost 17 points in the state since the last poll, and that former Massachusetts Governors William Weld (15%) and Mitt Romney (12%) would combine to pull a quarter of primary voters away from Trump.
Former North Carolina Governor Nikki Haley did not fare as well in a hypothetical New Hampshire primary, drawing only 9.8 % of primary voters were she to enter the race.
Shock Poll: Former First Lady Michelle Obama Leads All Democrats in New Hampshire
Reviewed by
JNJ GLOBAL GIST
on
October 16, 2019
Rating: