Couple Goes Into Hiding, Seeks IGP Protection Over Threat To Life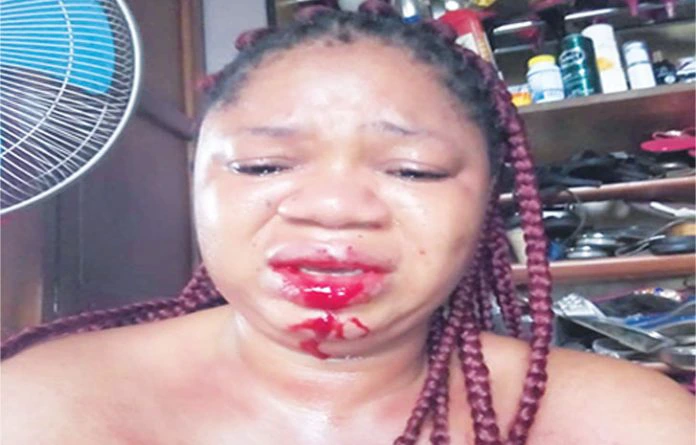 LAGOS – A Lagos-based couple, Mr. Richard Adekanmi Komolafe, and his wife, Mrs Komolafe Adenike Susannah are seeking the Inspector General of Police, IGP Mohammed Adam's protection over threat to life and repeated physical attacks on them and their children by unknown persons.
The attacks have made the family to go into hiding, with a plea to the Nigeria Police to save their lives.
According to the Mushin based business woman and a mother of three, who speaks from her hiding place, several attempts have been made on her life and her family by some persons, who attacked her severally physically and inflicted injuries in her mouth and legs. Two of such attacks occurred on her way home from office close to her house.
Mrs Komolafe said the attackers escorted her one night when she closed from her shop and as she was closed to her house. They pounced on her from a commercial motorcyclist and began to beat her to a stupor.
She added that the attackers told her to warn her husband to steer clear from a court case he was handling, outcome of which they believe would not go their way.
Her husband had also witnessed such attacks, the latest of which is the disappearance of his vehicle in front of the Lagos State High Court, Igbosere, which was later abandoned and found at Badore, Ajah.
According to Mrs Komolafe, she reported the incident at the Olosan Police Station, Mushin, Lagos and the police promised to investigate the matter but no one has been arrested till date. She said further attacks occurred consecutively, with the attackers warning her they would further deal with her and her husband, which has now made her and children to go into hiding.
The police report of the attacks dated August 23, 2019, and signed by SP Ayodele Adeagbo, indicated that the incident is still under investigation and the suspected hoodlums are yet to be arrested.
"A week after our arrival in Nigeria in January, in broad daylight, I was beaten to stupor by some people on commercial motorcycle. The attackers said they will deal with me and my husband, who is a legal practitioner. Early April this year, the same thing happened close to my shop when two people on 'okada' came down while I was waiting for somebody, and gave me a blow again in my mouth and told me to tell my husband to steer clear of them. Since then we have been living in fear. I had to run to a nearby shop for protection," she said.
The business woman added that the minder of her son who normally go to the boy's school to pick him after closing school hours, was hypnotised on her way from picking the boy to the level where she could not comprehend anything again.
She added: "My husband and I had to change the schools of our children from one location to another and now scatter them in different schools for security reasons. My first son was taken to military school and the second daughter was taken to a Catholic school and the third to another international school."
She called on the Inspector General of Police to come to her aid.
It would be recalled that her husband, Richard Adekanmi Komolafe, a legal practitioner and right activist, had last year cried out over threat to his life and that of his wife and family.
According to the lawyer, his family had come under both physical and spiritual attacks from unknown people as a result of his activism and numerous court cases he had won against some prominent members in the society, especially the land grabbers, thereby putting the life of his wife and children in danger.
In July, he had also petitioned the Assistant Inspector General of Police, Zone 11, Onikan, over the incidents and called for investigation into the matter.
Following the stolen of his car on October 11, 2019, in which vital documents were also stolen, Komolafe has also gone into hiding.
The matter is also presently being investigated by the police at the Lion Building.
Couple Goes Into Hiding, Seeks IGP Protection Over Threat To Life
Reviewed by
JNJ GLOBAL GIST
on
November 09, 2019
Rating: