How Oshiomhole Ordered Security Men To Walk Akpabio Out Of APC NEC Meeting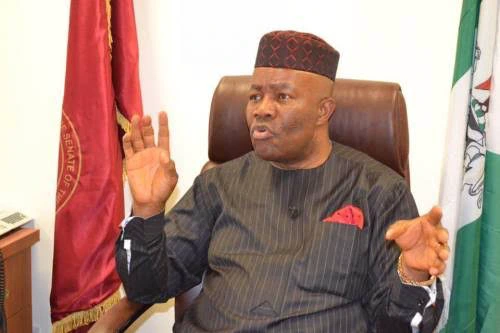 Minister for Niger Delta, Godswill Akpabio was one of the casualties of the recently held meeting of the National Executive Council of the ruling All Progressives Congress.
Akpabio was walked out of the meeting by security men on the orders of National Chairman Adams Oshiomhole at the November 22, 2019 parley.
Oshiomhole, after "spewing" words that delivered verbal punches and knocks on , ordered the minister to be walked based on the fact that he was not qualified to be at the meeting "because he is not a member of the APC NEC".
"Though they protested, Akpabio and his entourage were bundled out…it was really a shameful treatment that was meted out to the Minister and his crew" a source stated.
Providing background, an insider disclosed that Akpabio drew the ire of Oshiomhoke by teaming up with Edo state Governor, Godwin Obaseki.
Obaseki and Oshiomhole are in a fierce battle over the control of Edo state and the governor's re-election ambition.
Insiders disclosed that the ulterior motive of the November 22 NEC meeting was to pass a "vote of no confidence" on Oshiomhole and Obaseki was at the forefront of the move.
He had an ally in Akpabio who is at odds with Oshiomhole over influences in the constitution of the board of the NDDC ( Niger Delta Development Commission) and Niger Delta area at large sources disclosed.
But Oshiomhole saw through the move and countered It by ensuring the arrowheads of the plot were denied the platform to make their agitation through substituted appearance, or outright denial of access into the meeting, as was done to Akpabio.
Insiders insist the development greatly took points from Akpabio's growing profile within the APC and makes a mess of his posture to be seen as "extremely important" in the ruling party.
How Oshiomhole Ordered Security Men To Walk Akpabio Out Of APC NEC Meeting
Reviewed by
JNJ GLOBAL GIST
on
November 24, 2019
Rating: