How a stranger gave me Range Rover Evoque –Etinosa Idemudia, actress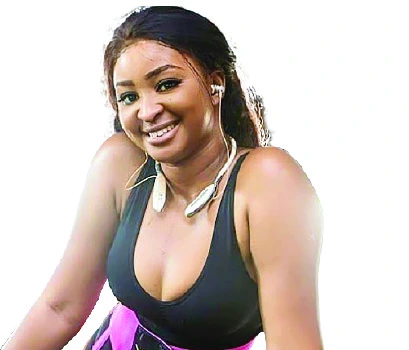 Despite the stiff competition in the movie industry, Etinosa Idemudia became a bankable actor and toast of many movie producers within a few years, simply because of her acting prowess.
In this exclusive interview, the Edo State-born role interpreter reveals how a total stranger gave her a Range Rover Evoque, among other issues. Enjoy it.
What are you currently working on?
I am currently working on a movie called, Game up. It is an action/romance drama, which is scheduled for release later this year. It was shot in Lagos and it stars Ghanaian actor, Toosweet Annan, Chris Okagbue, Jaywon and my humble self among others.
What do you like about the character you played in the movie?
I played Dumebi, a street girl turned-criminal, due to peer influence. What I like most about the character is her soft heart. Despite the fact that she was an accomplice to a hardened criminal, she had the heart of a child. Although, that would later work against her, as we see it in real life.
Which movie would you say brought you fame?
I would attribute my on-screen fame to the sitcom, Chairman where I played the role of Amanda, a spin-off character from my already famous comedy skits.
You started producing almost immediately you came into the industry, how did that fast transition come about?
It's due to my passion for creating. Before going on to produce a movie, I have been off and on for a couple of years before I taught myself how to shoot and edit videos. Then it was just for fun but gradually I found myself addicted to it. Shortly after I joined the industry, the passion and eagerness to create couldn't be hidden, I met an equally young and eager director who gave me my first opportunity at film production. The first movie I produced, which was completely experimental, was Diary of A Married Man. It was with this movie I gained hands-on experience, coupled with what I learned in film school, and of course, the drive. That was how, two years into the industry, I made my first Nollywood blockbuster, The Washerman.
What kind of a producer are you, especially when conflict arises at location?
What kind of producer am I? Firstly, I am a master planner. I am very good in pre-production plans, which reduces the possibility of crisis in production and losses. I would attribute that to my three years experience in oil and gas project planning. However, no matter how good your planning is, unforeseen circumstances must arise. I am the kind of producer who assigns tasks to departments and trust that they can handle challenges with or without supervision. I am result-oriented and I deal with issues head on rather than shout, panic or breakdown. I believe every problem has a solution and I instill this possibility mentality on my team members too.
Do you believe that movie producers should have formal training before they can do good films?
Not really. I believe everyone in life must get trained on whatever they intend to embark on including filmmaking, but not necessarily through formal education. For example, I learnt the major part of my scriptwriting online. And video editing too.
Which do you cherish the most, acting or producing?
It is a very difficult question. I cherish acting more.
What difference do you want to make with your movies?
I want someone to see my movie and see himself or herself in it as if looking into a mirror. I want people to be informed through my movies, for a re-evaluation of life so as to bring about a positive turnaround in that very individual.
Sex for grades or sex for roles is rampart in the society, have you ever faced a situation where you have to give in for sexual advancements in order to reach your goal?
When I was up and coming, I faced a few sex for role situations, but I was never pressured into doing anything, because I was already informed from film school that things like this would happen. No producer has the right to determine your success. So, as an up and coming girl, I was never desperate. I rude die! I knew my value. I knew that with time I would break even. I was not in a hurry at all; I later lost respect and contact with such sex for role filmmakers. No, I will not mention names. Not today… Not yet…
Many believe your nude video on Instagram with MC Galaxy was a publicity stunt. Can you clear the air on what transpired?
The scandal is passed and I'd rather not talk about it.
It seems you have developed a thick skin; you are no longer perturbed about what people say or write about you?
As a public figure, just like a sales rep or attendant, you have to grow thick skin in order to serve the people better.
How was your growing up?
I grew up in a strict Christian family. We lacked nothing and we grew up happy. Myself, four siblings and my parents still live happily together.
It seems you had an abused relationship in the past, how were you able to come out of it?
I just packed my things, ran and never looked back.
You are more of a comic or comedian, is that your selling point?
Yes, I am a comic. It's one of my strengths, even in dealing with real life issues.
Is marriage still far or near to you?
Marriage is something I can't comment on right now.
Who is the lucky man in your life?
His name is Jesus… Lol.
What qualities do you desire in a man?
The perfect quality is love. A man that loves you will always make you happy. Love for God and love for me, finish, all other things will follow.
How do you handle stubborn male fans who want intimacy with you?
I just ignore them when it's becoming unbearable, but I'm nice to everyone. I love my fans.
What is the craziest thing a fan has done to you?
A fan that I have never met sent me a Range Rover once. I'm not good with cars but I think it's Evoque. It's crazy because I didn't even know him.
What is your most embarrassing moment in the industry?
The nudity scandal!
Tell us the sexiest part of your body that you flaunt as your endowment?
I think my legs; they are the sexiest part of me.
How much can you be paid to go nude in a movie?
I can't go nude in a movie.
Source: THE SUN ☀
How a stranger gave me Range Rover Evoque –Etinosa Idemudia, actress
Reviewed by
JNJ GLOBAL GIST
on
November 05, 2019
Rating: