I sold bread for 13 years before becoming governor ― Makinde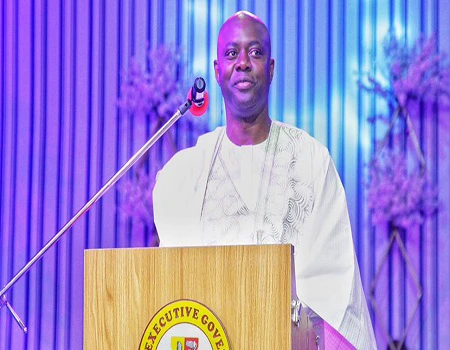 Governor Makinde


Oyo state governor, Mr Seyi Makinde, on Sunday, said his decision to declare free education in the state was in recognition of the huge part that education had played in his successes in life.

Making reference to his humble background, which involved him selling bread by the gate of Adeoyo state hospital, Ibadan for his first 13 years in Makinde held that only by being educated did he make headway in life.

Makinde, who spoke during the 80th thanksgiving service of his mother, Mrs Abigael Makinde, at St Paul Anglican Church, Yemetu, Ibadan, on Sunday, said he also wanted residents of the state to gain the benefits of being educated hence his declaration of free education.

He, therefore, urged parents to be much concerned about the education of their children or wards.

"For the first 13 years of my life, where we lived was not more than five minutes to where we are now. My mum was a telephone operator in the state secretariat. At Adeoyo State Hospital here, I and my brother Muyiwa also used to help her sell bread by the gate of Adeoyo State Hospital.

"What can propel a child who used to live some five minutes away from here [Yemetu] to become a governor of Oyo state is education. And that is why we have declared that free and qualitative education has come to stay in Oyo state," Makinde said.

Speaking further, he decried that some persons were hell-bent on sabotaging his efforts to sabotage his governance.

Makinde said these efforts to frustrate the government's efforts was epitomised in some residents who continue to intentionally dispose their waste on medians and other unauthorised places.

"Once again, I thank the good people of Oyo state for your unalloyed support for this administration. Some people don't want this government to succeed.

'Take for example, on my way here, I realised that some people intentionally dumped their refuse on the median. I know that it is not the people of this area that generated those wastes.

'Some people took it as their assignment to drop those wastes there knowing that I will pass through that road today. They performed the evil act because they knew I was going to pass through the road to this place today, but we thank God for his usual support. We will continue to serve the people of the Oyo state."

In addition, he bemoaned that some residents were keen on exploiting their religious divides to cause disaffection and disunity in the state.

He condemned those religious activists intent on causing inter-faith disharmony, assuring that the state government valued the coexistence of various religions, as it had subsisted overtime.

"I want to greet the Aare Musulumi of Yorubaland, Edo and Delta state, Alhaji Dawud Akinola because he is here with us today. What this means is that those who are seeking to use religion to divide us should look for another job.

"As a government, we will do what is right and proper. There is not one family in this state that there is no Muslims or Christians, so, issues of religion cannot divide us in Oyo state."

In his sermon titled "Occupy till I come," Reverend Dr Samuel Osungbeju, urged leaders to serve well so as to receive the reward of God.

"Serve well and the Lord will bless you," he said, adding the respective positions occupied by public officers are like talents given to them by God.

Though he noted that the actions and policies of the Makinde led government of Makinde were being well received by the people, Osungbeju urged Makinde not to relent in his resolve to deliver good governance.



I sold bread for 13 years before becoming governor ― Makinde
Reviewed by
JNJ GLOBAL GIST
on
November 10, 2019
Rating: