Landlady weeps as tenant converts flats to hotel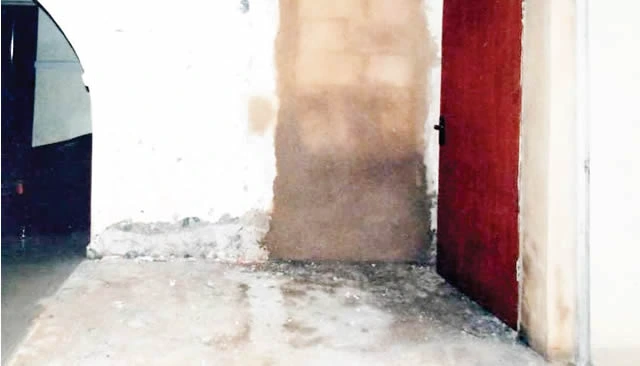 The converted flats
A 75-year-old landlady, Mrs Hannah Otite, has broken down in tears following the conversion of two flats in her property located at No. 3 Kafi Street in the Alausa area of Ikeja, Lagos State, to a hotel by a tenant, Oshinsegun Ashley, without her consent.
Narrating her ordeal to PUNCH Metro on Wednesday, Otite said amid sobs that she got to know about the illegal conversion in December 2017, a few months after Ashley had moved into the house.
She explained that several attempts to get him to reverse the situation failed over the years as the tenant resorted to threatening her.
The septuagenarian said the tenant was introduced by her agent, identified simply as Kunle, in September 2017, adding that after paying N1.3m as the yearly rent for a flat, Ashley immediately indicated interest in securing another flat that became vacant.
Otite stated that unknown to her, the tenant had the dubious intention of converting the two flats into a hotel without her consent.
She said, "Ashley was brought to me by my agent, Kunle, and he paid the N1.3m annual rent for one flat. After three weeks, I went to the property and discovered that he had not moved in, I called the attention of the agent, but he said I should not bother myself since he had paid.
"I later travelled abroad and while away, I got a call that one of my tenants was moving out to his newly-built house. My agent again called to inform me that Ashley was interested in the vacant apartment for his brother, who was abroad; I was reluctant initially, because I didn't want to give two flats to the same tenant, but he promised to abide by the agreement he had earlier signed when he rented the first flat.
"I didn't know that he was collaborating with the agent, because shortly after, I got information from one of my other tenants that he had converted the flats to chalets. When I came back to Nigeria, I went to inspect my property only to see that Ashley had demolished the kitchen and other parts of the flats and converted them to rooms.
"I wept the day I found out that he had converted my house to a hotel because it was never in my plan. After pleading with him on several occasions to correct what he had done and move out of my house, he asked me to institute a legal action against him, boasting that he would not pay rent for the number of years the case would be in court."
She added that she had reported the matter at the Ikeja Police Station and approached the court to evict the tenant, adding that though the case is on, Ashley had been threatening her.
Otite called on the state government and security agencies to assist her to reclaim her property.
Meanwhile, the Convener of the Movement for Human Rights Volunteers, Musbau Olatunji, has called on security operatives to protect Otite following the alleged threats by the tenant.
Olatunji told PUNCH Metro that he stepped into the matter to ensure that justice was served in the matter.
When contacted on the telephone, Ashley said he never threatened Otite, adding that there was no agreement on the second flat he rented.
He stated, "Well, the matter is in court. She was cautioned last week not to disturb us. This is a property I got on lease; I have always got lease property since I relocated to Nigeria. I have never got a tenanted property and I told her of my intention and purpose of getting the entire six flats in the property.
"I got the first flat and six months after, I got the second flat, and I did not do any work on the first flat until when the second was available. When I got the second flat, I told her what I intended doing. I had done major work there, including marble tiling, screeding and POP for the entire ceiling, and so on. I was surprised that after that, she drew my attention to a one-year agreement.
"The only agreement I had with her was for one flat. I paid for the second flat and I was not given any agreement and you are asking me to leave. I am into the hotel and apartments business and I am surprised that after I have added value to the property, she wants me out. How is that possible? I am not threatening her life and everything is in court anyway."
Read More News On JNJGLOBALGIST.COM and subscribe to our daily newsletter
Landlady weeps as tenant converts flats to hotel
Reviewed by
JNJ GLOBAL GIST
on
November 08, 2019
Rating: