Motorists stranded as Warri-Sapele highway collapses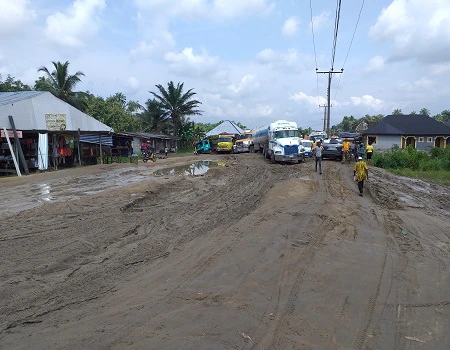 Motorists plying the ever-busy Warri – Sapele axis of the Benin-Warri highway were stranded, on Friday, as the deplorable portion of the federal highway has become impassable.
The Benin-Warri highway linking the neglected East-West road connects four all-important oil and gas-rich Niger Delta states of Edo, Delta, Bayelsa and Rivers.
As of Friday, perhaps worse than any other day in the last two weeks, several kilometres of a bomber to bomber queue of articulated trucks and smaller vehicles were stuck as early as 6:00 a.m at Adeje axis of the highway as they struggled in vain to manoeuvre their way through.
The detour through Adeje community to link MFM and Amukpe used as alternate route also succumbed to the heavy traffic as vehicles were unable to continue nor return to Warri. They were also simply stuck.
As a result, clubs-bearing youths between the ages of 15 and 25 from Adeje and neighbouring communities cashed in on the melee as they began to extort money from motorists.
Some drivers with smart knowledge of topography, in spite of being less a kilometre near Amukpe junction, had to head back to Oviri through Adagbrassa to link Eku road before navigating their way through Bada-Amukpe back to Sapele-Amukpe road.
Vehicles that embarked on a trip from Warri at 6:00 a.m on Friday, after a circle journey arrived Benin at 2:00 p.m.
In some cases, motorists, weeping, sighing and muttering curses on authorities responsible for the hardship, had to resort to trekking or engage the services of motorcyclists and triyclists to either return to Warri or elsewhere.
The collapsed portion of the road between Warri and Sapele was the portion that received palliative repairs from the Delta State government about two months when motorists cried to the high heavens for intervention.
The state government had announced through its commissioner of information, Charles Aniagwu, that it was budgeting about N1 billion naira to carry out palliative on deplorable federal highways across the state.
The state government thereafter swung to action and swiftly fixed the portion of the Sapele highway but began to dilly dally on the Warri lane after the minister of works, Raji Fashola announced a non-refund of federal roads fixed by state governments.
The journey from Amukpe roundabout to Benin was no better as deep gullies, albeit security agents mounting "'toll gates" before and after Gamo Bridge slowed down whatever speed a hurry driver wished to gain.
At the mouth of Gamo Bridge is a yawning gully where an articulated truck, perhaps oblivious of the danger ahead, rammed into the rails, almost plunging into the river. It could not be ascertained if the driver and other occupants survived the accident.
A driver with a national daily who was stuck at Adeje while on his way from Ibadan early Friday morning had to engage the services of a tricycle across the failed portion where trucks are stuck to ferry his consignment to Warri after wasting close to five hours on a spot.
"I'm tired of this country. What's difficult in fixing the mere road that has become too hard for our leaders to do?
"I have spent close to five hours here and I can't go further as you can see," the driver who gave his name as Baba Saliu lamented.
Meanwhile, the three-man interim committee of the NDDC led by Chief Cairo Ojuogbho, a few days ago while on an assessment tour, promised to engage the federal ministry of works for quick fixing of the fast dilapidating highway.
As of the time of filing the report, no sign of respite was on the horizon as motorists risk nightfall amid security concerns.
Motorists stranded as Warri-Sapele highway collapses
Reviewed by
JNJ GLOBAL GIST
on
November 22, 2019
Rating: