Reno Omokri responds again to the Indimi family, says "1% of your wealth can close down all the IDP camps in Borno"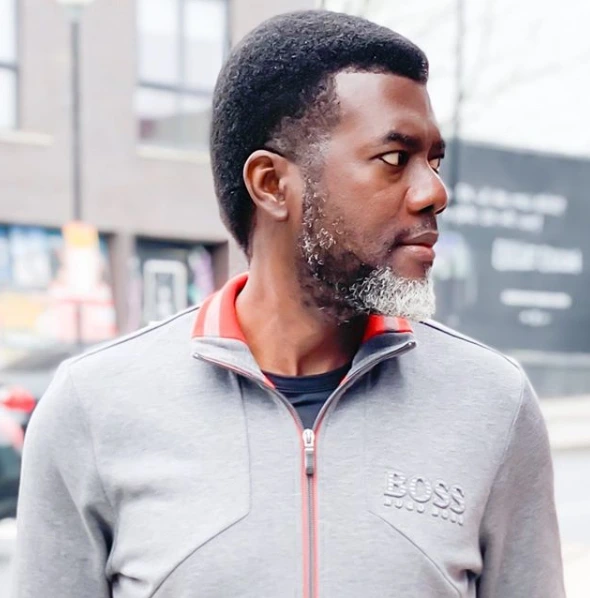 Reno Omokri seems reluctant to let the Indimis have the last word and he has issued another statement addressing the family after his online spat with the influential Indimi family.
It all began with Reno lauding billionaire Femi Otedola for donating 5 Billion Naira to Save The Children Fund to aid impoverished children in three Northern states - Katsina, Adamawa and Borno.
While praising Otedola, Reno criticized the Indimi family and other wealthy Northern families who he says do not contribute to lift the poor people surrounding them out of poverty.
Reno wrote on Monday:
Femi Otedola has just put the billionaires of the Northeast to shame. Where are the Indimis, the Mai Deribe family and other oil billionaires from the Northeast? Google their names and some of the first pictures you will see are of their children in private jets, marrying Presidents children and displaying obscene wealth while surrounded by extreme poverty. It took a Good Samaritan stranger to do what natives of the Northeast failed to do! Shame on them and God bless the talakawa that they have refused to look after.
Reno's message was replied by Zara Indimi, one of the Indimi daughters. Reno hit back at her reply and Rahma, another of the Indimi daughters, responded again by sharing a screenshot of a UN invitation letter sent to the Indimi family. The screenshot was shared as proof that the family actually helps the poor.
Now, Reno has responded to the Indimi daughters.
Sharing a photo of Femi Otedola with Bill Gates, he wrote:
To whom it may concern,
Truth is hatred to those who hate truth. You people should go and eat INDOMIE and think of what I told you. How do you think Boko Haram started. You can't be flaunting unimaginable wealth in the midst of unimaginable poverty and expect the poor not to rise up. You live in OBSCENE WEALTH in the midst of EXTREME POVERTY. That is why the poor peasants around you feel that book (Boko) is HARAM, because it has produced your sort of wealth. The wealth that SWALLOWS while the poor WALLOW. If you must SWALLOW anything, let it be your PRIDE. The wealth that you flaunt can feed the IDPs around you, 1% of your wealth can close down ALL the IDP camps in Borno. You lavish hundreds of millions on parties that we see on Ovation and LIB and you call me SILLY? Look in the mirror. You claim the international community sees what you are doing. Of course. They saw your million dollar donation to an American University that is already a multimillionaire and didn't need the money. Stop throwing tantrums and go and feed your starving masses! SWALLOW your pride and learn from
@femiotedola
and
@thisisbillgates
!
#WhoTheCapFits
#TableShaker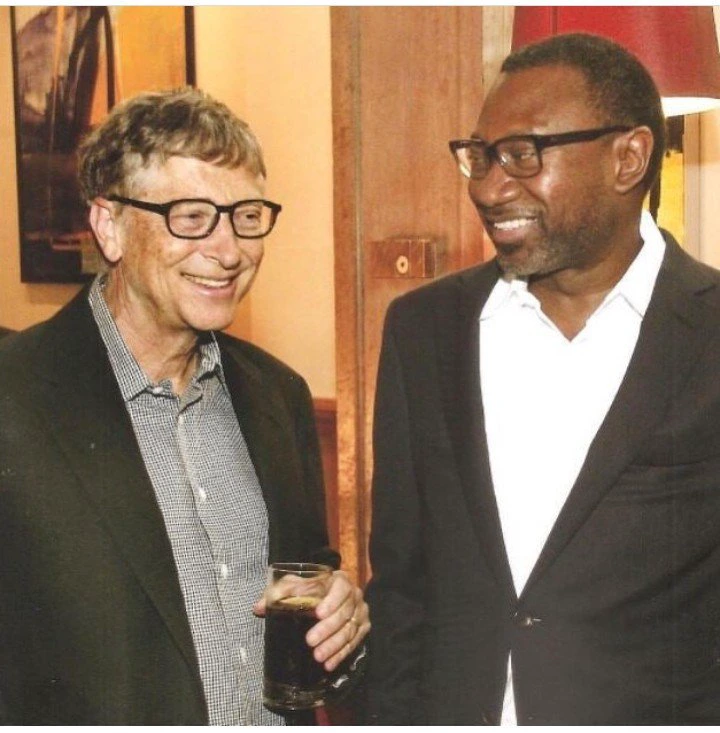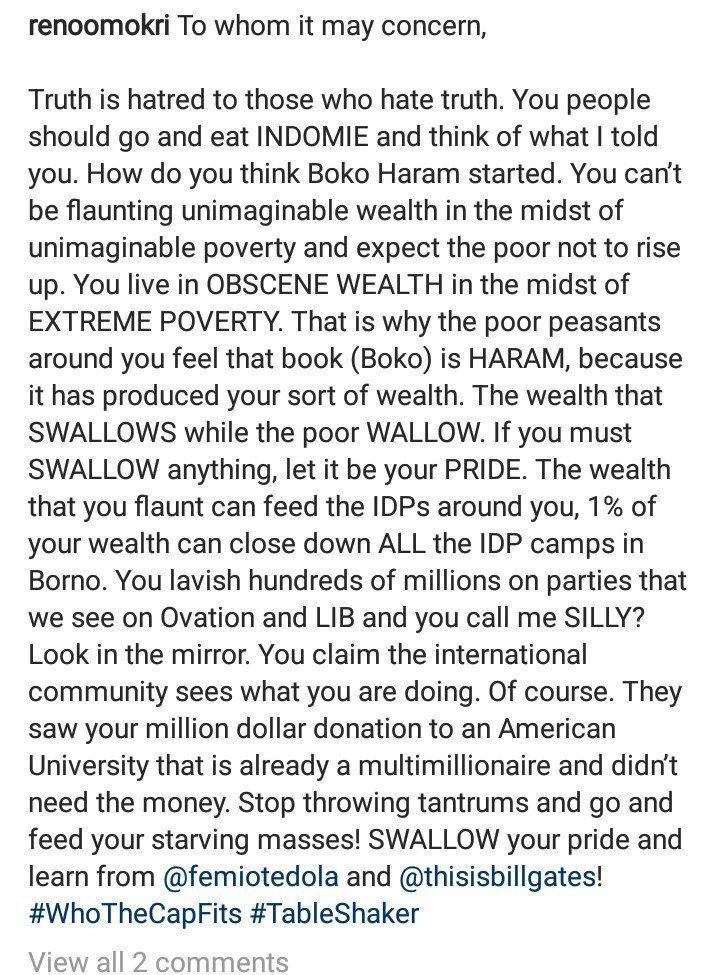 Reno Omokri responds again to the Indimi family, says "1% of your wealth can close down all the IDP camps in Borno"
Reviewed by
JNJ GLOBAL GIST
on
November 12, 2019
Rating: