Edo Speaker declares 14 seats vacant
…Okiye is a member-elect like us, ex-Speaker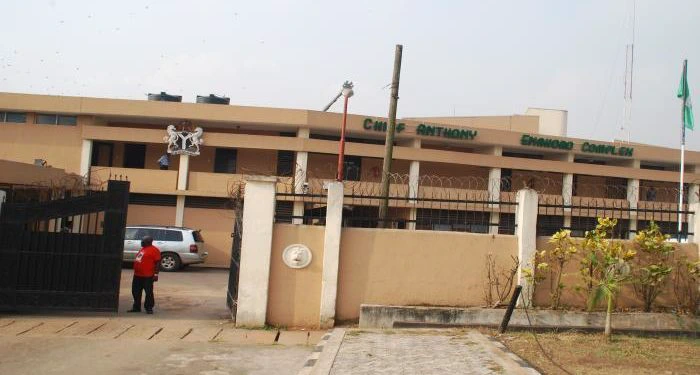 Crisis rocking the Edo State House of Assembly took another twist on Wednesday as Speaker Francis Okiye declared 14 seats vacant.
The 14 seats declared vacant are those of the 12 members-elect that are yet to present themselves for inauguration and two lawmakers that allegedly absconded after being inaugurated.
Those whose seats were declared vacant were Chris Okaeben (Oredo West), Crosby Eribo (Egor) Washington Osifo (Uhunmwode) Ugiagbe Dumez (Ovia North East 1) Vincent Uwadiae ( Ovia North East 11) Sunday Aghedo (Ovia South West) Victor Edoror (Esan Central) Emmanuel Agbaje (Akoko-Edo 11) Eric Okaka (Owan East) Micheal Ohio-Ezo (Owan West) Oshoma Ahmed (Estako Central) Kingsley Ugabi (Estako East) and Ehi Ekhosuehi (Oredo West).
Okaka and Ekhosuehi were the two lawmakers whose seats were declared vacant for not meeting mandatory sitting requirement to continue as members of the House.
The 12 members-elect and the two other lawmakers have been in Abuja since June and they have been demanding for a fresh proclamation to be issued and a proposed inauguration conducted.
Making the announcement during an emergency plenary session Wednesday, Speaker Okiye urged the Independent National Electoral Commission to conduct bye-elections for the affected constituencies within 90 days.
Deputy Speaker of the House, Hon. Yekini Idiaye, representing Akoko Edo State Constituency I, who spoke to newsmen, explained that two of those affected from Oredo East and Owan East, were sworn-in but failed to meet the mandatory 181-day sitting requirement for a member in a calendar year.
He said, "For others, who hadn't been inaugurated since the proclamation of House, their constituents have been complaining and have come to us that they want their voices and concerns to be heard at the House.
"So, people who are willing to provide quality representation have to be elected to bring the matters of the distraught constituents to the floor for debate and legislation, where necessary."
Reacting to the declaration of seats vacant, Okaeben said Okiye has no powers to make such pronouncement or asked INEC to conduct bye-elections.
Okaeben stated that Edo, currently, has no House of Assembly as spelt out by the Nigeria Constitution.
He said the House did not also form a quorum.
His words, "They want us to toe the path of violence but we have said nobody's blood is worth a seat in the Assembly. We will pursue our case in a constitutional way. We have no problem with Governor Obaseki since he said he has issued a proclamation.
"The Clerk did not invite us to any inauguration. A proper inauguration is what we will attend. Okiye has said nothing today."
On what they would do if INEC decided to conduct bye-elections, Okaeben said Prof. Mahmoud is not a dull person not to know the truth.
A former Speaker of the Edo Assembly, Hon Victor Edoror, said his constituents are happy with his decision to stay away from what he termed illegal Assembly.
Edoror said, "Okiye is not a Speaker. He is a member-elect like us. The Constitution is clear on how many members should be in an Assembly.
"Okiye has no powers to declare our seats vacant. All what is happening in the Edo Assembly are illegal and they will be swept out. My people are happy with me."
Edo Speaker declares 14 seats vacant
Reviewed by
JNJ GLOBAL GIST
on
December 04, 2019
Rating: