Sowore vs DSS: APC administration becoming 'civilian dictatorship' - SPN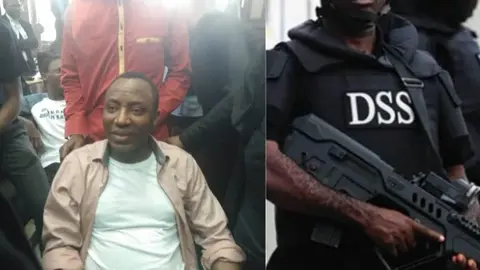 The Socialist Party of Nigeria, SPN, has declared that the re-arrest of the Presidential candidate of the African Action Congress, AAC, Omoyele Sowore and Olawale Bakare by gun-wielding men of the Department of State Service (DSS) in a court room shows that the All Progressives Congress, APC, administration is fast becoming "civilian capitalist dictatorship."
SPN in a statement jointly signed by its Acting National Chairperson, Comrade Abiodun Bamigboye and National Secretary, Comrade Chinedu Bosah, stressed that the re-arrest of Sowore and Olawale less than 24 hours after they were released on the order of the same court after spending at least 124 days in detention, should be totally condemned.
The Party said, "The re-arrest of Sowore and Bakare which was executed in the manner of gangsters and in a court room whose judge had to scamper to safety shows that the APC regime is fast becoming, a civilian capitalist dictatorship which when it becomes expedient does not even respect its own hallowed courts and so-called temple of injustice.
"The only way to defend democratic rights and defeat a growing dictatorship whether military or the civilian variant is through mass mobilisation of the working people and youth in mass struggle.
"It is to this extent that the SPN finds the continued silence, safe for a few weak press statements, of the leadership of the Nigerian Labour Congress (NLC), Trade Union Congress (TUC) and the United Labour Congress (ULC) completely embarrassing.
"The leadership of the organised labour cannot say they are unaware of the growing despotism of the Buhari regime and its flagrant assault on democratic rights. By their silence, the leadership of organised labour is giving the impression that they endorse the actions of the government.
"This attitude of the labour leadership is all the more dangerous especially because these flagrant attacks on democratic rights we are witnessing now are simply warming up exercises on the part of the regime for a full-blown assault which would be directed against the labour movement itself especially when workers begin to fight for the implementation of the N30, 000 minimum wage and against other anti-poor and anti-worker policies."
SPN further lamented, "The implication of all these taken together is that all the minimal democratic rights to freedom of expression and association won since the return to civil rule in 1999 now stands at risk. This is why the labour movement cannot continue to stand arms akimbo. In its struggle for emancipation from the shackles of capitalism and imperialism, the working class has to defend the limited democratic rights won during past periods while striving to advance the movement towards a revolutionary transformation of society along socialist lines."
The Party noted that Sowore was arrested for calling for revolution, adding, "as far as we are concerned in the Socialist Party of Nigeria (SPN), revolution is not a crime but a duty and obligation in an inequitable capitalist society where a few are stupendously rich at the expense of the mass majority."
Sowore vs DSS: APC administration becoming 'civilian dictatorship' - SPN
Reviewed by
JNJ GLOBAL GIST
on
December 07, 2019
Rating: