Stop undue interference in NDDC management – APC chieftain warns Akpabio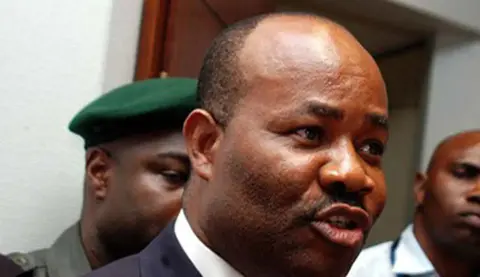 A former security adviser and a political elder in Bayelsa State, Chief Perekeme Kpodoh, has warned the Minister of Niger Delta Affairs, Senator Godswill Akpabio, to stop undue interference in the management of the Niger Delta Development Commission( NDDC).
The All Progressives Congress (APC), chieftain also urged him to dissolve the interim management and swear-in the new management team appointed by President Buhari.
Chief Prekeme Kpodoh, said though the entire region supported the call by President Buhari for a forensic audit of the commission, it is neither the duty of an illegal interim committee not a Niger Delta Affairs Minister facing alleged graft charges to oversee such investigation.
Kpodoh, in a statement, stated that the show of superior power by Senator Akpabio is provoking tension and anger among the stakeholders of the region and giving room to many to question the authority of President Muhammad Buhari on the affairs of the NDDC, 'the NDDC is not Akwa Ibom where he took and dished out orders without supervision..Where was he when the fight for the setting up of the NDDC was staged and battles won.?'
'Akpabio is not even quaKalu to supervise the forensic probe ordered by President Buhari. He is under investigation for graft and should not be involved in the ordered probe. He should take a cue from what happened to the former Governor of Abia State, Orji Kalu. It should not take too long, the EFCC will conclude investigation and prosecution.'
On the recent trial and indictment of the former Governor of Abia State, Senator Orji Uzo Kalu, Chief Perekeme Kpodoh described it as a welcome development and a show of the sincerity of the President Muhammad Buhari towards fighting corruption.
Kpodoh said the Orji Kalu indictment is a clear indication that the APC membership of any politician does not immune him or her against prosecution by the anti-graft commission,'it will show the desperate politicians that the APC does not cover up corrupt politicians. Under President Buhari, the fight against corrupt practices is real.'
Stop undue interference in NDDC management – APC chieftain warns Akpabio
Reviewed by
JNJ GLOBAL GIST
on
December 06, 2019
Rating: